Perfume Making Masterclass

Alison has been helping clients design and create their very own signature scents since 2004. 

After enjoying this wonderful experience event, clients often return to purchase gift vouchers and perfume refills for their family and friends.  Over the years many return to create new recipes.
Most new clients come through word of mouth and if you are reading this (and haven't received a gift voucher) and would like to join one of our regular perfume design events simply get in touch.   

Click here to view some customer reviews.



Perfume Design
The perfume experience event runs over 90 mins-2 hours and gives your nose a nice wee work out and lots of fun and laughter as you sample 21 perfume notes designed by Francois Robert, Master Perfumer, at the Perfume Studio.
Francois is a 4th generation Master Perfumer and his grand father helped create some of today's Chanel classics including Chanel 19 and Cristalle.  The perfume blends are unisex and each is a perfume in it's own right.  A great deal of time, art and science has gone into their creation so they blend extremely well with one another.
Alison will guide you on an aromatic journey as you select your preferred notes whilst you immerse yourself into the world of aromatics and perfumery.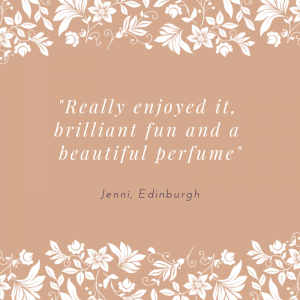 Once you have chosen your favourites, Alison will help you refine your individual blend of fragrant notes before custom blending your perfume to take away with you on the day.  Refills are available on the day and can be ordered at any time in the future.
As well as open monthly events, private events can be booked in advance for Corporate Events, Birthday Parties, Hen Parties and Bridal Fragrance in many cities throughout Central Scotland.  Edinburgh, Glasgow, Falkirk, Motherwell, Lanark, Dunfermline, Perth, Dundee, New Lanark to name but a few.
Contact  alison@complementyourhealth.com  0131 334 1311.
Alison takes immense pride in her work and looks forward to welcoming you to the services of Complement Your Health.
For our regular Perfume Making Masterclasses in Edinburgh you can purchase Gift Vouchers  from the online shop or book your place below if you already have a Gold,  Platinum or Diamond Perfume Making Gift Voucher.  We also run private events for Corporate Clients, Birthday Parties, Hen Parties and Charity Fundraisers.
If the dates below do not suit or you need more places than available, please kindly get in touch.   Thnx.
Perfume Making Masterclass – Future Dates
APRIL
Saturday 27 April at 11am – 3 spaces available
Saturday 27 April at 3pm – FULLY BOOKED
MAY
Thursday 16 May at 2pm – 5 spaces available